It was Donald Campbell of Pavel Skates doing. And Paul Coupe. At the far end of the race calendar was a tiny event organised by the Spanish skaters to be held in Mallorca. It had a lowish race status of 'Prime' and Spanish events were unknown, so was completely off-radar. 
Louis Selby, Paul Price, Richie Carrasco & Nigel Allgood
Then the 'Main Status' ranked Indoor European Championships in Dusseldorf was cancelled. Slippery floor, apparently. Donald, quick to seize a new opportunity, saw Mallorca as both a holiday destination with guaranteed sun at the end of Summer and a great race location. Mallorca was bumped up from Prime Status to Main. Suddenly the island had gravitas on the race calendar. He threw the Pavel PR machine behind the event, promised a functioning timing setup and contacted his race team, communicating that they should all rendezvous mid-Med in October.
All of these shenanigans had passed me by. It took a kick from Paul Price to point me in the right direction. Bruno and Louis were down to go, as was Paul Coupe. Paul was number one in the ISSA UK Amateur rankings (something that various UKSSA members would not let me forget) and I needed the points to be in with a chance of reclaiming the top UK position. Besides, Mallorca in the Autumn sounded just the tonic to chase away the onset of the impending long dark English evenings. And there were supposed to be some nice parts in the north of the island.
And so Mr Price and I found ourselves in a rental car, navigating to Magaluff one Friday night. Nigel Allgood was guiding us in. He had decided to head out at the last minute and he had already spent the afternoon on the island. "Louis' here, but he's passed out." Nigel said, "If you see an upside down house then you are pretty close." We did.
I had never expected to find myself in a town that only appeared on TV Shows where groups of boys carried their sick friend from bar to bar on there first trip away and groups of girls stagger around starting fights and then bawling "e's not werf it." Now we were part of that programme. A feint panic set in as we could not find the entrance to the hotel car park. Instead we took a wrong turn that led us up to the 'main strip.' Crowds of neon-lit  zombie-teens tumbled aimlessly from bars into the street, so we progressed at a snail's pace. We felt overdressed and under-tattooed. Despite the alcoholic slobber that spewed from the revellers' lips, it seemed that the heaviest abuse had been of gym memberships. These were not slalom skaters. 
We rounded a corner at the top of the hill and headed back to the hotel for a second attempt. Turns out that the main entrance is concealed to keep out the uninvited. Nigel came out  into the street to meet us and guided us back to the comfort of  the Wavehouse. We checked in, ditched our gear and headed back out for an ale to seal the night.
Saturday morning saw us arise early and head in convoy to the race site around the coast on the outskirts of Palma. Situated on a broad pavement with underground parking, it was sandwiched between a municipal park  and a cemetery of magnificent Gothic mausoleums. The Mallorca Slalom Skateboard Association set up a Hybrid Slalom course on the wide cycle track in the morning sun. Paul and Louis went to registration and signed in as Pro skaters. Bruno was a no-show as was Paul Coupe. Paul C had unluckily suffered a fractured skull following a fall from his freestyle board in Crystal Palace, so was not allowed to fly, let alone compete. This gave me a bit of a dilemma. Should I race in the Masters category with Donald, Flavio and Pelle, where I'd have a good chance of getting a result, or should I go for the points in the Amateur category and so oust Paul Coupe from his number one position in the UK Am rankings? Thinking of the poor chap laid up in a hospital bed, hardly capable of movement, I plumped for the latter. Nigel signed up likewise. We then went for a cup of coffee whilst the Pros did their thang.
Joe McLaren vs Janis Kusmins, Hybrid Final
By lunchtime the clouds had closed in and were hanging menacingly over the cemetery. The Pros, despite a timing glitch, had some results in the bag. And what a field. The Sk8kings team had brought over Richie Carrasco, Joe McLaren and Lynne Kramer. George Pappas had resurfaced too. Europe was fielding the Latvian massive of Janis Kusmins and Gustavs Gailitis whilst the Swedes offered the powerful Hadestrand meat. Joe was triumpant once again, whilst the home team of Louis and Paul fought valiantly to gain twelfth and fifteenth place respectively. Weather predictions were being whispered around the race arena. It would blow through and just miss us, most suggested. Not untypically, the Heavens disagreed and rained down with a fierce determination. As Brits, we thought it would quickly pass through and we'd be on again. Consequently, whilst others were drying out in the underground car park, we could be found beneath an olive tree, ready to race. We were wrong. Monsoon.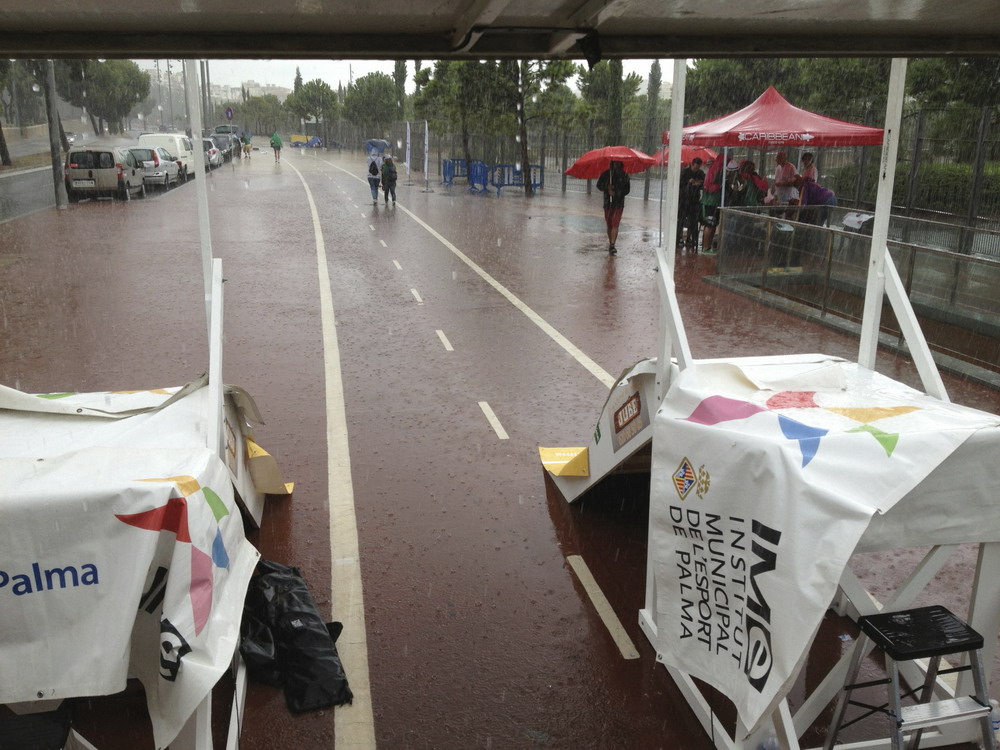 Pic courtesy of Jani Soderhall
Day two was not looking promising. With another early start, the ground looked to be still damp from Saturday's torrents. Our balcony had not drained and now formed a lukewarm paddling pool. Still, spirits were good. We'd spent the rest of the preceding day making the most of the local pursuits: go-karting, wave-boarding and people-watching. In one bar there was a troup of camouflage-miniskirted girls with machine guns trying to exotically outdance a monastry load of saucily clad nuns. These ladies were staying upright marginally better than the seventy-year-old schoolgirls. All were moving roughly in time to the beat of Mallorca's only bongo-playing black dwarf.
We arrived late to the GS site, but the course had yet to dry. The hill was pretty fast and smooth with an uphill outrun on an exit road to the left. Already there was an outcry because the Am GS course started below the Pro version. A racer meet and vote changed nothing and the competition kicked off with the Pros blazing the trail. No surprises to see top spot taken by Joe McLaren, followed closely by Janis Kusmins and George Pappas. Louis and Paul picked up 14th and 15th places, where just a couple of seconds separated the whole pack.
Further down the course, the Amateur group were getting ready to race. Despite the shortened course, finishing speeds were similar to that of the Pros, so the distance reduction was unnecessary. Because of the damp on the track from earlier, I'd run the 'safe' option of Racer X wheels. Of course it was the wrong decision. The course has been straightened for safety purposes and the wheel of choice was the Centrax option, with George Artemov taking the win. I picked up a tenth place, whilst Nigel claimed the 39th spot on Paul Price's GS board.
Pelle had been grinning all morning, and when it came to his time to race he stripped to just under the bare minimum, his only race garments (apart from footwear) being a rather large sock of which only the initial portion was filled. 'Skin to win' he said, and I'll be damned if he didn't pip me to ninth position. The last time he beat me in GS he was wearing a lime green mankini. Damn.
To make up for the lack of racing from the day before, the Ams also took part in a hybrid event which was run as a time trial. Pelle was not on the pace, however Donald Campbell picked up eleventh position to my tenth. A close run thing! Nigel was gaining confidence on every run and once again reclaimed his 39th spot.
Donald's high placing gave him just enough points to claim the Masters category, with Pelle close behind. Had I run in this category then we could have made a great triumverate, however my thoughts were only for the hospitalised Mr Coupe and his shattered head. Don't think enough points were scored…Doh!
Thanks again to the AMSS, the SSSA and to Donald Campbell of Pavel skates for making this a 'must do' on the race calendar. There should be more of us Brits in Magaluff next year. Oi!